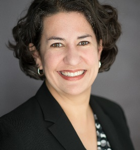 Areas of Expertise:
Project Management
Business Line Development
Brownfields Reuse Planning
Land Planning
Military Facility Planning
NEPA Analysis
Education
Master of Regional Planning, Land Use and Growth Management, University of North Carolina, 1999.
Bachelor of Arts, Geography and Environmental Studies, Macalester College, 1996.
Certifications
Member – American Planning Association (APA) and Virginia Chapter of APA (VAPA)
American Institute of Certified Planners (AICP) – 2001
Presentations and Publications
"Proactive Strategies for Combating Encroachment: Lessons Learned from DoD Installations and Communities." APA National Conference, April 2008.
"Moving Beyond Local Solutions to Encroachment: A Regional Approach," APA Federal Planning Division Conference, April 2007.
"Regional Planning for Active Navy Installations: Achieving an Efficient and Sustainable Infrastructure" ICMA Baseline, Spring 2003.
"Navy's Regional Planning" The Military Engineer, November-December 2003.
"Regional Planning for Active Navy Installations: Achieving an Efficient and Sustainable Infrastructure" Network, FPD Newsletter of the APA, October 20
Ms. Kackar excels in large-scale project management, bringing extensive experience in delivering value-added products to communities and clients alike.
She enjoys creating opportunities for knowledge sharing, providing focused guidance for planning efforts. Her precision in project details, in conjunction with her ability to communicate with stakeholders of various backgrounds, ensures the inclusion of the highest priority targets in moving forward in planning efforts. She also works collaboratively with clients and as a leader in developing interpersonal networks across business lines. Ms. Kackar's most recent experience was at AECOM (formerly EDAW), where she was a Senior Associate.
Her project work experience is diverse, including land and facility planning, NEPA analysis, and local community planning. Ms. Kackar's work in community planning focuses primarily on land conservation in rural/edge communities and work around brownfields and military installations. Her military planning work has focused on the U.S. Navy, including development of Navy-wide planning policies, targeted regional planning efforts, and site-level facility projects. In recent years, Ms. Kackar specialized in assisting DoD installations and communities with encroachment planning, ensuring the coexistence of community values and essential DoD operations. As project manager and senior planner, her Hampton Roads Joint Land Use Study received the Best Master Plan award from the Virginia APA in 2006. Her NEPA experience includes primarily non-military federal clients, encompassing both site-specific studies as well as impact assessments on a national scale.