[vc_column width="1/3″]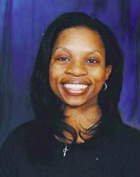 Areas of Expertise:
Reuse Services
Reuse Planning & Design
Community Design Charrettes/Facilitation
Memberships:
American Institute of Architects
US Green Building Council
[/vc_column] [vc_column width="2/3″]
Regina Winters is a leading green architect and community planner with extensive experience in urban neighborhoods.
Ms. Winters has served as the Executive Director for the Housing Authority of the City of New Haven, Director of Real Estate Development for Mutual Housing of CT and Executive Director of the Livable Cities Initiative in New Haven. She is fluent in Spanish and has several successful projects working with Latinos in the United States and internationally.
Ms. Winter's architectural work focuses on implementation of green practices in residential, commercial and ecclesiastical structures in the context of neighborhood revitalization.
Currently, Ms. Winters is focused on making the green revolution affordable and bringing neighborhood and community planning initiatives across the country to fruition.
Ms. Winters received her Bachelor's with honors in Visual and Environmental Studies from Harvard University and went on to receive her Master's of Architecture from the Yale University School of Architecture. At Yale she co-founded the Yale chapter of the National Organization of Minority Architects.

[/vc_column]